Kernow
An Kesunyans Keltek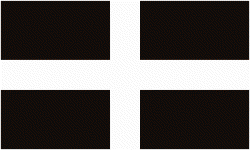 An Kesunyans Keltek
Kernow (Cornwall) has been described as the least autonomous of the Celtic nations. It is wrongly termed as a county of England, when it  is actually a Duchy. Despite this the Cornwall Branch of the Celtic League is one of the most active and vocal.  Its social media presence  has ensured a large membership and an even greater following. In fact the League's reach in Cornwall exceeds that of the local print media.
The Cornwall Branch of the Celtic League has played an acknowledged and recognised role in the achievement of the official recognition of the Cornish People as a National Minority in 2014. This follows on from recognition of the Cornish language in 2002.
The Branch has participated in many successful campaigns that have made national news and changed central government policy. The Branch continues to monitor the distant Westminster Government, its agencies and the secretive establishment known as the Duchy of Cornwall.
The Branch is proud to be very inclusive and counts amongst its substantial membership, people from a wide variety of professions and trades, ethnic backgrounds and range of political views. All we ask is that they share our vision of an autonomous Cornwall and indeed autonomy for all the Celtic Nations.
Information for the people of Cornwall