Kernow
An Kesunyans Keltek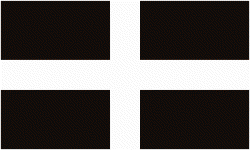 Kernow (Cornwall) has been described as the cinderella of the Celtic nations. Although larger in both land area and population than the smallest, it probably has now the least political independence. Frequently wrongly termed as a county of England, it is actually a Duchy.
Although the language did actually cease to be spoken nearly two centuries ago, it is undergoing revival and can now even claim some native speakers.
Click here for a more detailed background.